D & T Golf Cars: New & Used Golf Cars for Sale
Our inventory offers a variety of options to fit your needs and budget.
These environment-friendly vehicles are not just for the course anymore!
Below is a list of just a few optional ways to make use of an Electric or Gas Golf car.
* For Community driving and errands
* On the Golf Course
* Mobile Home Parks
* Gated Neighborhoods
* Apartment Complex
* Retirement Communities
* Storage Facilities
* Car Dealerships
* People Haulers
* Maintenance and Groundskeepers
* Security
* Hospitals or Large Parking Lots
* Special Occasion Events
Already have a golf car? We take trade-ins! Come in and let us give you a quote on the value of your existing car.
E-Z Go, Par Car, Columbia, Club Car, Harley Davidson, Eagle, Western, Melex, Hyundai, Taylor Dunn, and Yamaha (gas or electric)
Pre-Owned Golf Cars
Our Used car inventory varies all the time, but you will always have options with us. Many of our customers who purchase one of our New cars already have a pre-owned golf cart at home.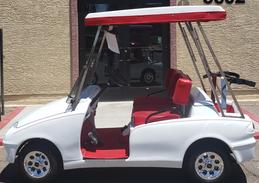 This is where we can help! We offer a fair price for your current vehicle and take it off your hands.
Consignment Cars
Need to sell your golf car? Let us help!
If your vehicle meets our criteria, we will then be able to display it on our property.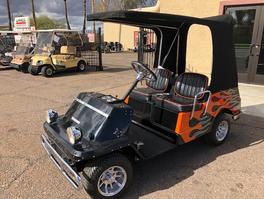 This gives you a hassle-free way of selling your golf car. We charge a set fee of the purchased price for doing so.
A consignment contract is a tool used to engage a seller and an owner of goods in a business deal designed to generate profits for both parties. The owner gives the seller the vehicle to be sold and the signed title as per Arizona law. If the items sell, then both parties share in the profits. The car is not actually purchased by the dealer, just displayed for you. D & T will list your vehicle for sale at an agreed-upon price. Once sold, a check will be made for the sale price minus the consignment fee after a 7-10 day grace period. The product will be displayed as is unless agreed upon by the seller for additional repairs.
Custom & Rebuilt
Our employees can customize a vehicle to fit your needs, lifestyle, personality, and budget!
Start by selecting a year, color and options then add your personality.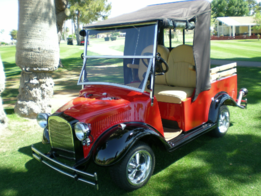 Rental & Lease Cars
Want a golf car without all the hassle of ownership? Need to haul around people for a special event?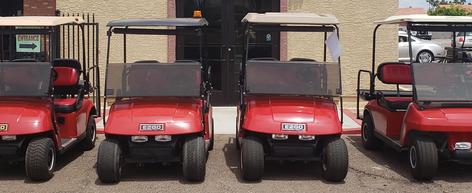 Looking for a way to get around the neighborhood without paying those high gas prices?
You've come to the right place! At D & T, you can rent a car for as little as 72 hours or an indefinite term. Many of our customers are only in town for a few months and don't want to deal with all the hassle of owning their own car. We give them a perfect solution! This helps them get around their private community with very little to worry about.
Cars are leased for use off-road, or on private roads that are not dedicated to the public. Cars are not licensed and are prohibited from use on public roads.
We offer lease cars for personal and business use!